What are the first things that come to your mind when you think about wearing a saree? I hoping your thinking is good as mine. Wait we are going to discuss just that.
Bride likes to look beautiful with saree and lehenga choli in wedding and wedding parties. But the main things in saree and lehenga is the beautiful blouse and blouse fabric. But today we are going to explore about bridal blouse designs (Pattern)
Finding the perfectly crafted and designed blouse is more difficult than you think. But don't take it hard we are going to show you perfectly crafted and very comfortable blouse design, especially for brides. For the bridal blouse its matter the comfort, design, beauty of blouse, fabrics and mainly the looks.
Explore For Specially Designed Bridal Blouse
If you looking for specially designed bridal blouse than you are at the right location. We are going to show you various types of bridal blouse designs. There are so many fabrics for a blouse but it's difficult to choose the right design for your selected blouse fabric. We are going to show you a blouse designs like a silk blouse design, cotton, georgette, satin others.
So sit tight and take a tour of 50 awesome beautiful blouse designs...
1.Back Neck Green and Red Stone Work Dulhan Blouse Designs.
Let's start with my favorite part of the blouse design. Backside blouse design. It will rock the wedding with green and red color stones it is representing an Indian traditional blouse and cause of the radium green color it will highlight.
2. Wedding Couple Embroidered Work Back Blouse Design.
This types of blouse look some different than other types of blouse. All credits of blouse beauty are going to backside embroidered design couple it's eye-catching. Combination of blue and red color embroidered work it's doing great work
3. Green Stone Work Peacock Design Wedding Blouse.
Another interesting blouse design. This bridal blouse is designed with moti work, embroidered work, stonework, and thread work the perfect example of traditional Indian blouse. Its can change be awesome for lehenga shoot photo shoot.
4. Big Golden Border Blouse With Golden Moti's Border.
The perfect match for beautiful brides wedding party blouse. Purple and gold combination is my favorite and I know its also favorite of many girls. Big golden moti is rolling the main part of the blouse. The golden shining sleeve is also good.
5. Front Cutting Pink Blouse With Embroidered Work.
Pulse point of this blouse is you don't need to wear any types of jewelry. A pink color blouse is adorable for all girls and it is the favorite color of the majority of girls. It is most likely outstanding amongst another looking blouse designs that you will get through this wedding season.
6. Back Less Silk Designer Blouse In Pink And Blue.
This is an entirely cool pullover design that is unique in relation to the ones talked about here. It sports extraordinary shading alongside some special connections that make it so delightful. Blue and golden or pink and golden both color combination are nice.
7. Neckless White Satari Work Blouse In Magenta Color.
In the event that you are searching for the creator blouse, this one of presumably one of the best ones to brandish at weddings. The charming examples were done on it separate it from the ones examined here.
8. Grey Net Designer Blouse Pattern.
These are a portion of the blouse designs for marriage saree that you can pick from. Rest be guaranteed, you will grab the eye of the visitors. Since the lady of the hour is the most imperative individual on the big day, these blouse designs will make you feel so.
9. Yellow Fully Covered Net Designs Dulhan Blouse.
On the off chance that you are a fan of a neckless blouse, here's a design that is energizing. Straightforward, beautiful and exotic. It essentially ticks off all the crates for an extraordinary looking pullover, and this is a subject you can use with any texture or shading. In the event that you are not happy with a sleeveless pullover, include net sleeves with Kundan outskirt.
10. Mind lowing Grey Blouse Design For Party Wear Blouse.
The sheer shoulder blouse is one of the greatest patterns in wedding blouse designs 2018. This excellent blouse design here has a sweetheart neck fixing with sheer shoulder and pearl embellishments that is immaculate to be combined with both a lehenga and a saree.
11. Pink Blouse With Golden Embroidered Design.
The design of this blouse is completely laudable. One end of the shirt is longer and is fastened with excellent brilliant catches on the opposite side. There is such a great amount of going on in the frontal side of the pullover that the best pick for it would be straightforward saree.
12. Back Cut-off Bridal Blouse.
How might we miss highlighting somewhere around one full sleeved blouse on the rundown with that being a hit on the wedding shopping market nowadays? The blouse is yellow with copper weaving on it and the material is cotton or georgette as should be obvious.
13. Light Pink Net And Silk Designer Occasional Blouse design.
by chance, if you want a blouse that matches to your saree combination this selected designer blouse design is a great option for you. this is one of my favorites blouses.
14. Green Hand embroidered Work Designer Wedding Occasional Blouse.
This is an entirely lovely green blouse with a little showcase of blue on it. The blouse is hand-made and the excellence is shown from every last bit of material in this customary bit of superbness to be worn by lovely ladies at all occasions.
15. Pink Traditional Dulhan Embroidered Work Blouse.
A standout amongst other blouse design of 2018, this magnificence appropriate here is something I can't take my eyes off! The sheer sleeves with overwhelming weaving and multi-layer gem back of this wedding pullover are thoroughly taking the show of this present lady of the hour's saree.
16. Magenta Color Jacket Style Blouse With Embroidered Work.
Well, this is something different. Here, we can see the totally alluring beauty of the well-designed neck work done on the blouse.
17. Traditional Red Color Wedding Style Blouse.
The shade of the conventional saree buddy is truly attractive and it will be appropriate for ladies, who have a slim body. In the event that you have a rotund constitution, the bulgy physique of your body may the destroy the magnificence of this thing and make it resemble a wreck.
18. Satin Shining Golden And Dark Pink Stone Work Design.
The main thing I can say in the wake of seeing this most recent pullover configuration is 'uff'. Isn't this bridle neck blouse flat out stunner to wear on your sangeet night?
19. Western Style Blouse Design For Wedding Parties.
For the Morden generation bride its a perfectly suited blouse who don't fret from experimenting with their bridal look, this is just for you.
20. One other western style blouse designer for the bride.
On the off chance that you need some blouse neck designs for wedding sarees, at that point, this will be one of the best ones out there. The blouse accompanies an adorable example alongside shining attachments.
21. Pink Designer Blouse With Sheer Jacket.
This lovely wedding blouse design with rich weaving, reflect work and the sheer front is an extraordinary alternative to wear with your designer gathering saree.
22. Hot Backless Bridal Saree Blouse Design.
Wow, this all bridal designer blouse are nothing just boring design. Presenting latest hot designer backless bridal and party wear blouse. Gorgeous golden blouse with latkan is looking very cool.
23. Designer red Color Moti Work Bridal Blouse Design.
Whole Beauty of this blouse is getting with cut border its intricate embroidery in kundan, zardozi or maggam style if you want a gorgeous look. And you can also keep this dory and do stonework on a Dori its have 2 benefits 1. Its keep your blouse comfortable and 2.Its increase your blouse beauty.
24. Back Square Cut South Indian Bridal Blouse Design.
This Indian marriage pullover configuration includes a Square Cut opening for the back and princess cut sleeves for the shoulders. This is the ideal fit for wide carried ladies as it occupies the consideration far from the issue territories.
25. Pink Embroidered Back Cut Blouse.
Your back will look very hot in this blouse with a profound o cut out. This is a perfect plan for a summer wedding in India as you will require a lot of air under the cruel camera lights.
These blouses are additionally taken benevolent as any normal tailor will make them. Truth be told, you can group them with overwhelming saris and make them the center point effortlessly. They are the best for post-wedding parties.
26. Frill Type Pink Rose Pattern Embroidered Work Wedding Blouse Design.
The blouse with rose design embroidered work and also with the green color thread work is looking awesome and increasing the beauty of the blouse. This blouse is the very impressive and the curly sheer fabric attached with this blouse is an adorable and it is going well with this design. This blouse design is perfect for wedding parties.
27. Blue Color Peacock On White Fabric Blouse. The Perfect Match For Morden Bride.
This white color embroidered work blouse design with blues color peacock on the tree is the looking gorgeous. This will look awesome on the south Indian bride and also a perfect match for Morden bride. Blue color saree is the perfect suitable for this blouse design.
28. Wedding Couple Design On Blouse Suitable For Bride.
The green color is the traditional color of Indian bridal wear and this green color blouse is covered with the golden color thread and looking cool and traditional with green color. The wedding couple is drawn at the back side of blouse and it's a perfect match for bridal wear. If the groom will wear shervani or suit with a couple drawn design than it becomes a perfect match.
29. Mughal cut out Red color blouse Design.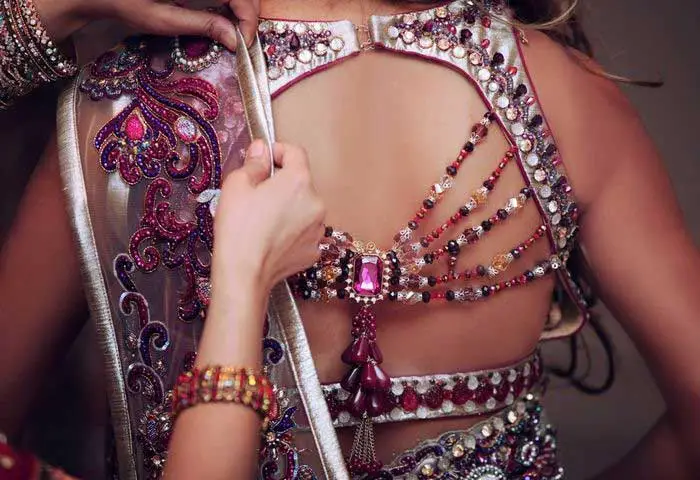 This Indian wedding blouse design(see below) highlights a gold-hued full-sleeved blouse with a pattern board reminiscent of the Mughal time passage. It is combined with a matching saree or a lehenga choli.
By a wide margin, the nearest credible Mughal period ladies' dress is the Peshwaz. The main distinction is that the Peshwaz isn't a blouse and it runs right down to the lower legs.
30. Sleeve Less Black Mirror Work Party Wear Blouse Design.
Sleeveless black color blouse is good for wedding celebration parties and Musical night. Blouse design is not too good but the collar with the mirror work is doing good to make this blouse different than other blouse design. You should try it on blue and pink color sarees.
31. Beautiful Gujarati Style Blouse Design.
Here's another wedding blouse design that is flawless to run with your marriage silk saree. The exquisite ikat print and strong off-bear design make this extraordinary compared to other blouse design 2019.
32. Pink Color Extra Ordinary Blouse For special Occasions.
Resemble an absolute diva on your huge day by wearing this girdle style thread adorned blouse with a staggering silk saree. Effectively a standout amongst other blouse design 2019, this one is a contemporary decision to wear at your gathering.
33. Sheer Front Mirror Work Red Traditional Blouse Design.
A perfect fit to wear for your sangeet evening, this most recent wedding blouse design has sheer cap sleeves and a wonderful neck area with multicolor mirror work. A frank net saree with minimal frivolity would absolutely take this blouse design to another level.
34. Unique Back Cut Red Color Traditional Bridal Design Blouse.
This gorgeous bridal blouse design with heavy embroidery, mirror work and unique cutting back is a great option to wear with your designer reception saree.
35. Birds Case Embroidered Design On Aqua Color blouse.
On the off chance that you wish to run full scale with your wedding troupe, this new blouse design 2019 with overwhelming zardosi work is certain to take all the spotlight.
36. Something Difference Than the Last Blouse.
There are so many ways where you can make your saree looking beautiful and one of them is "wearing this aqua color embroidered design blouse" this blouse increase your saree beauty and also add class to saree attire.
37. Yellow Moti Work Dulhan Design Blouse.
An ordinary blouse can be made to look fashionable on the off chance that you add some sliced work to it as comparative as montage work one does in venture work. The blouse design runs best with substantial silk sarees or weaved sarees.
38. Extraordinary Blouse front Design With Satari And Moti Work.
This Jacket Style Blouse Is Best Design For Parties And I Think It's A Suitable For Wedding Parties. You Can Wear This Blouse On Silk Or Satin Saree To Look Good With This Blouse.
39. It is all on the sleeves.
Put in some beads, stitch in some flowers and stick up some mirrors to make one creative piece.
40. Mind Blowing Green Blouse With Moti And Mirror Work Pattern.
Your blouse does not really need to be in a specific shape, you can cut the sleeves in some shape. At that point, design the sleeves in the most imaginative way like doing some Kundan work like the one in the image.
41. Unique Steps Type Cutting Red Color Blouse With golden Embroidered Border.
A light, airy and modern blouse design, this one right here is perfect to wear for a cocktail night.
42. Blouse Design For Yellow Color Blouse.
Mirror work, chrome specifying on a sweetheart neck area shirt. Is there anything you don't adore about this most recent wedding blouse design 2018?
43. Hand Work Red Color Bridal Blouse Design With Dori.
This lovely brocade blouse is one of the easiest wedding blouse design 2019. The half covered blouse with full sleeves is exotic and rich in the meantime.
44. Unique Pink Color Blouse Design.
A simple and elegant blouse design goes a long way! This pretty floral embroidered blouse is ideal to pair with a plain saree with a simple border.
45. It's All About The Back Side Beauty!
This blouse with mirror and sequence work along with mesh finish has definitely taken our heart away.
46. Cold Shoulder Blouse.
Cold shoulder style has been drifting a great deal nowadays and they have struck a place in wedding blouse also, this Cold shoulder blouse with fine weaving is giving an exceptionally rich look.
47. Rajwadi Style Blouse Look.
These blouses have an entire vintage 90's vibe to them yet look very engaging and tasteful in style, keeping it increasingly rich and inconspicuous with beauty and polish these are the pioneers this wedding season.
48. Off Shoulder Design.
These Off-Shoulder radium green color wedding blouse designs might be a bold choice for the wedding day, but you could opt for this style for other occasions like mehndi, sangeet etc.
49. Embroidered Designer Long Sleeve Design.
Customary style wedding blouse designs are pleasant as they seem to be. It's a sure thing and can't turn out badly. If it's in impartial shading, you can coordinate it with practically anything in your gathering of sarees and lehengas.
50. Sleeve Less And Back Less Sexy Blouse For Bride.
One just can't take their eyes off this one - if you want to try a bold look this wedding season then this blouse should definitely be on your priority list.